Project title
...for the training of out-of-school girls.
Location
Suburb of Dakar, Senegal
Starting point
The "Union Communale des Femmes de Ndiarème" wishes to strengthen its activity in the food-processing sector, an area that can offer opportunities in various promising professions (bakery, pastry making, fruit drying, jam making, etc.) and enable women and girls to generate income.
About the project
The project aims, on the one hand, to 1) strengthen the Communal Union's capacity for the production and processing of agri-food products by equipping it with new equipment (oven, cereal mill, blender, kettle, etc.). This will enable women and girls to save considerable time, reduce fatigue and increase efficiency.
According to Ms. Diop, "nowadays, it is out of question to knead until you break your arm". This new equipment will also improve the quality of the products that will then be sold.
The project aims, on the other hand, 2) to train young women and girls without qualifications or employment in new techniques for processing agri-food products and in the use of new machinery, thus enabling them 'to move from traditional to more modern production'. The training will also include topics such as food hygiene.
The food will be then sold in the shop run by the Union to generate income for both the Union and the women and girls who produced the food. Since its opening, the shop has been doing well and is recognized for the quality of its products.
The project will directly benefit 50 girls and women, including 39 who are already in training at the "Centre Communal des métiers". The current average age is 17, with a majority of out-of-school girls between the ages of 14 and 16, the youngest being only 13.
Partnership
The project partner is the Union Communale des Femmes de Ndiarème located in the department of Guédiawaye. This poor urban suburb in the north-east of Dakar was founded in 1967 to receive people expelled from the capital. The commune of Ndiarème-Limamoulaye, where the Union is located, has a population of about 40,000 inhabitants over an area of 1.5 km².
The Union is an organization with a federative structure bringing together 92 women's associations and individual members and was officially recognized in 2017. The Union's mission is to work for the development of the locality and to improve the living conditions of suburban communities, particularly women and young people living in precarious situations. The Union is chaired by Ms Yandé Diop, a committed woman known for her work in favour of the development of her community.
Duration
2020: ongoing
We are looking for financial partnerships.
Some pictures: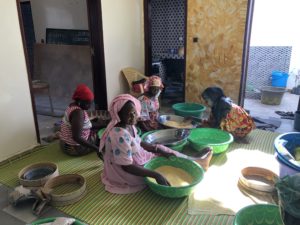 Group of women working on cereal processing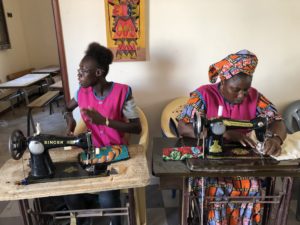 Training of young girls in the Centre for Trades
Supported by :