You have the opportunity to support a cause that is dear to you by making a bequest to our association.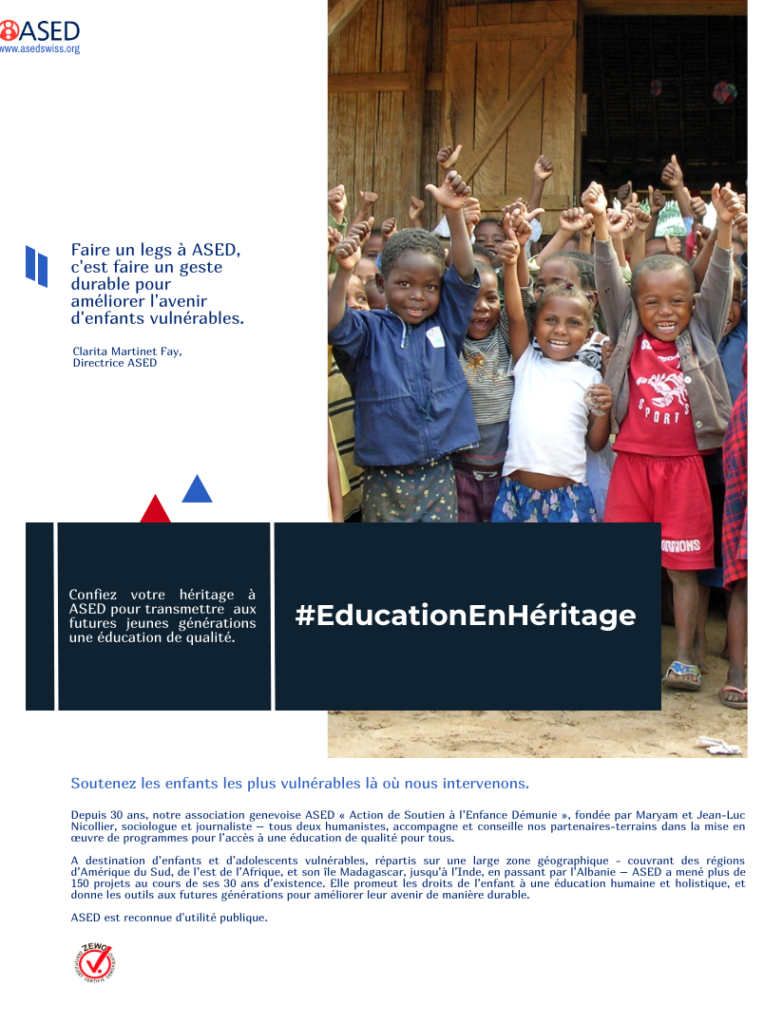 Our ambition
Through its main mission and actions, the Geneva-based association ASED "Action de Soutien à l'Enfance Démunie", does everything possible to ensure that the most vulnerable children are included in a qualitative and relevant teaching process.
From East Africa and the island of Madagascar to India, Albania and South America, during its 30 years of existence, the association has carried out more than 150 projects for the benefit of more than 25,000 vulnerable children and adolescents.
The programs that ASED supports promote the autonomy of younger people. ASED, in support of local associations, helps them to become responsible individuals, capable of leading their life with dignity in their communities.
At our side
Since the signature of the International Convention on the Rights of the Child on 20 November 1989, significant progress has been made in their favour. Health, education, protection, civil rights: children are better recognized and the quality of life of millions of them has improved.
Despite this, the challenges remain great: 115 million young people are still illiterate.
It is no longer enough to guarantee access to education. It is now necessary to ensure the quality of education.
Determined to continue its work on behalf of the youngest children, ASED continues its relentless commitment to an inclusive, rewarding and safe school climate so that every child can lead a more dignified and meaningful life.
The number of beneficiaries now stands at 25,000 and continues to grow, thanks in part to the generosity of several legatees.
By doing so, you are contributing to a significant change in the lives of the most vulnerable children, regardless of their ethnicity, race, religion, or the social or political structure in which they live.
Why
The idea of putting down on paper end of life wishes is often very difficult. "Too young, no time, etc." There are many reasons. It is an action that we put off until tomorrow but which nevertheless gives us the opportunity to clarify our wishes.
In Switzerland, about seven out of ten people die without having made a will, leaving the fate of their assets to be decided by law. This solution does not guarantee that their wishes regarding the distribution of their assets will be respected.
So, if you want a part of your property to go to people who are not your legal heirs or to humanitarian organizations, it is important to establish a "disposition by reason of death".
Writing up a will is particularly important for people without descendants, since they have almost complete freedom over their entire legacy.
Drawing up a will
Writing a will allows you to bequeath all or part of your assets for a cause you believe in. Whatever your question (i.e. how to write a will), get in touch with a notary.
Here are some links :
https://notaires-geneve.ch/fr/activites-succession-je-desire-regler-ma-succession (in french)
https://www.vd.ch/themes/justice/la-justice-civile/successions/formulaires-et-lexique-du-droit-des-successions/ (in french)